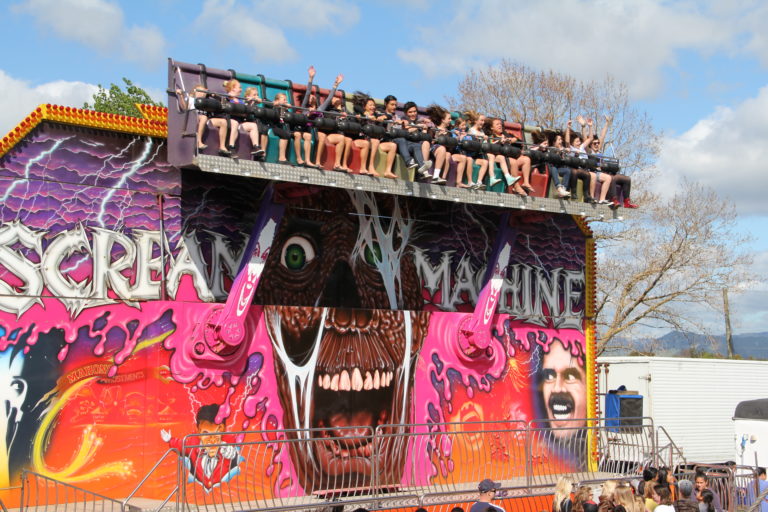 Featuring the return Merry Go Round – every child's favorite,  Dodgem Cars, Scream Machine, Giant Slide, Flying Dragons, Ferris Wheel, Turbo Boost and more along with Carnival Games and Fairground Food.
The Carnival rides use a Coupon System. This simply means that coupons are accepted on all rides (excluding Turbo Boost); you pick your favourite ride and buy the necessary number of coupons required. Alternatively you can buy discounted packs of coupons to use. This can be done for your own use or to share among family or friends.
Individual Coupons $1.30 each
Open daily 1pm & 7pm (weather dependent)
From Saturday 28th September- please note rides & attractions will be changing through out the event duration
Last day Wednesday 9th October 1pm & 7pm (weather dependent)
Rides require 1 to 7 coupons per ride and can be purchased singularly or in Packs.
OSH Height requirements apply
Minimum 1.1 accompanied by an adult or 1.4's to ride alone so some thrill rides- please check with Cashier
NB Some 5, 6 and 7 coupon riders have minimum rider heights.
Turbo Boost is on a cash-only basis
Be sure of your purchase as Coupons are Valid Day of Issue only, no refunds are given.
One large ticket box in the amusement area where all coupon purchases must be made, (no cash accepted at rides).
EFTPOS is available at Carnival area central ticket boxes.
Food Purchases and Carnival games require cash.